Negative Fill: The Best Kept Secret
(Cinematic Lighting Lesson 08)
Summary: In this video Ryan not only explains what negative fill is and how to use it, but he shows it being applied to different situations, gives tips on placement, and provides you with professional & DIY solutions.
Length: 5:47 minutes
Transcript
Introduction
By now you should be familiar with the role of a fill light and how it shapes the mood or tone of your scene. But what is this thing called negative fill? And how do I use it to dial in the look of my images? In this video I'm going to show you why negative fill is so important, how the professional tools are used to create negative fill, as well as some do-it-yourself solutions in case you don't have the budget for the pro gear.
What Is Negative Fill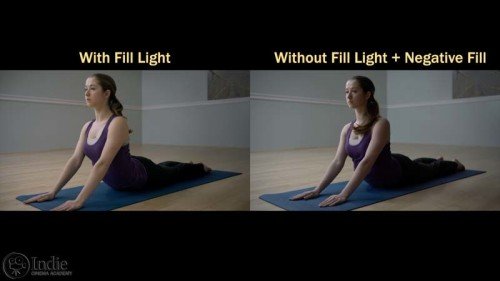 If the fill light adds light to the shot in order to decrease contrast levels of the key light, negative fill is the opposite. It removes light from the shot to increase contrast levels. Any time you are looking to make the blacks or the shadows of your image darker, consider adding negative fill.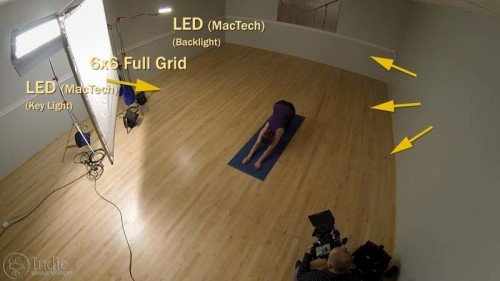 I'm guessing right about now you're thinking, if negative fill is about removing light, can't I just turn lights off? Yeah, that's where you start. But many times simply turning off a light isn't good enough. To stop light from bouncing around and filling in the shadows, additional measures have to be taken. Enter negative fill. Typically negative fill is a flag of some kind, and it's positioned to cut the light bouncing back into the shadows or fill side of the shot.
Another way to look at it is that the fill side of the shot is reflecting everything that it sees into the camera. If you're looking from the talent's position, the fill side of the shot reflects the light from that angle. If it's a wall, it reflects that wall. If you put a black flag there, now it sees black, and it is "reflecting" black.
Now that you know what negative fill is, let's put it into practice.
Using Negative Fill On Set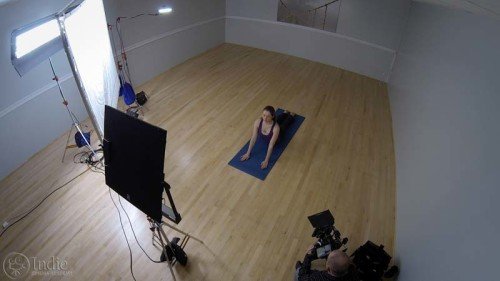 When I first began, I would often think to myself, "I'm inside and I can control the light at the location, so I don't need to worry about negative fill. Wrong…that can't be further from the truth. Even if you can turn every light off at a location, you should still be thinking about negative fill. That's because every light you turn on adds to ambient light levels; it is adding to your fill. Like it or not, light continues to bounce around the room, off the walls, off the ceiling. Everywhere.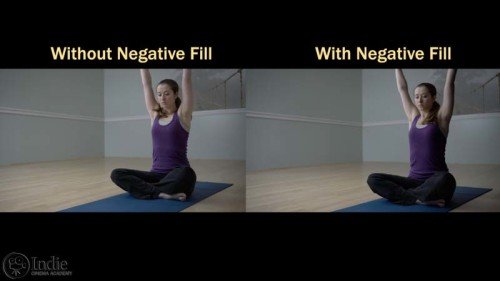 So to make sure your blacks are deep and rich, add in a flag or floppy to cut the light levels to the fill side of your shot in order to increase the contrast. The size of the negative fill you use will be dependent on the shot size and the size of your subject. The smaller the shot and subject, the smaller the negative fill can be. You might be able to use a 2' x 3' solid or smaller if the shot is only a close up. The larger the shot and subject, the bigger the negative fill has to be. If you're on a medium or wide shot, you might have to use a 4' x 4' floppy or bigger.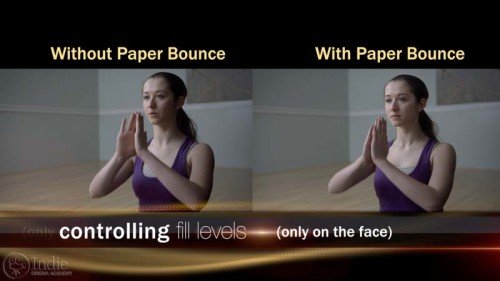 As a side note, here is a neat little trick: let's say you want to increase the contrast levels overall for an interview. So you bring in your 4' x 4' floppy. And now you have the contrast set where you want it overall, but you still want to bring up just the fill levels on the face. What do you do? Well, it's simple: just add in some copy paper or foam core. You can easily tape it to the flag and put it in the position you want it. This way the overall contrast isn't affected, just the part of the shot you wanted to bring up.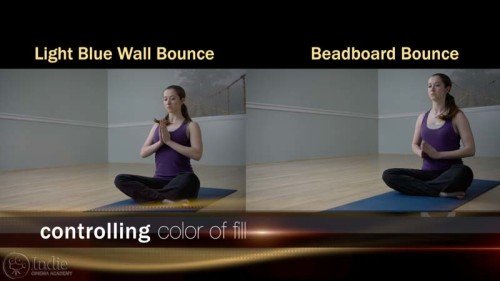 Another way to use negative fill is to help control the colors of your shadows. Maybe there are some colored walls that are contaminating the shadows, turning them a color you don't want. Simply add in a large negative fill to block the bounce light, and then bring in a white card to dial in your fill levels. Now your shadows will be clean since they are being filled with a white bounce.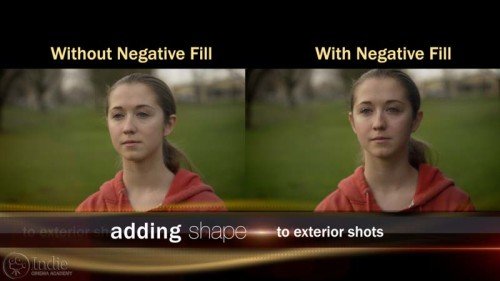 You should also be thinking about using negative fill any time you are shooting an exterior scene,. Outside light bounces around everywhere. And here in the Pacific Northwest, we usually get a lot of overcast days that really flatten out exterior scenes, making them boring. So to add contrast to the shot, I'll bring in negative fill which instantly adds contrast and shape to my image.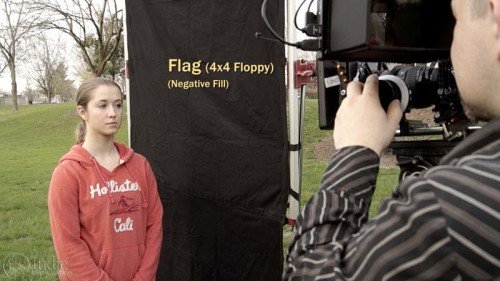 The tricky part of using negative fill outside is that the subject sees so much of the environment. That means the fill side is getting a lot of contamination from the sky and the ground; everything around it. So you have to bigger pieces of negative fill in order to see a difference. Most of the time, it means using at least a 4' x 4' solid, but that's usually only good for a close up or maybe a medium shot.
Pro Gear & Do-It-Yourself Solutions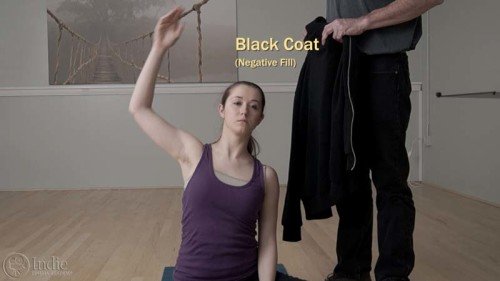 Since all you're doing is removing light from the fill side, the tools for negative fill can be really cheap. If you're really tight on funds, all you need is some kind of black material. Heck, if you're in a pinch you could even use a coat. But usually you'll want a thick black material like felt.
Then all you have to do it so clip it to a frame, a C-Stand, or anything you can safely mount it to for the shot. If the material is light enough, I've even tapped or pinned it to a wall.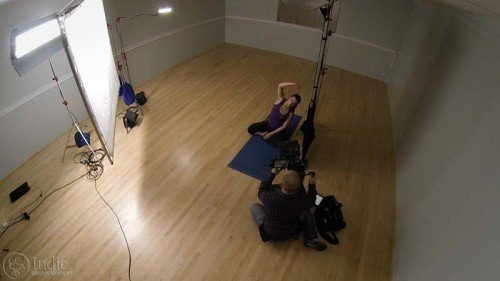 The drawback to any do-it-yourself solution is that it slows you down on set. So if you want to speed things up and not take forever trying to figure out how to rig your black cloth, just buy or rent the real tools: flags and floppies. They are made out of duvetyne which is a thick black material that is also flame retardant, meaning they are less likely to catch fire than your do-it-yourself fabric. I've found it's usually a best practice to not burn down your sets. And the best part is that professional negative fill gear is really cheap to rent.
Final Thoughts
Negative fill is a quick and easy way to remove light from the fill side of your shot in order to increase the contrast in your images. Whether you are inside or out, I'd encourage you to think about using negative fill. It might just be the tool you need to get your blacks to the richness you want them.
I want to know if anything new stood out to you? Or have you been using negative fill all along? Leave a comment below and let me know. And if you have any questions, ask away, and I'll be sure to respond.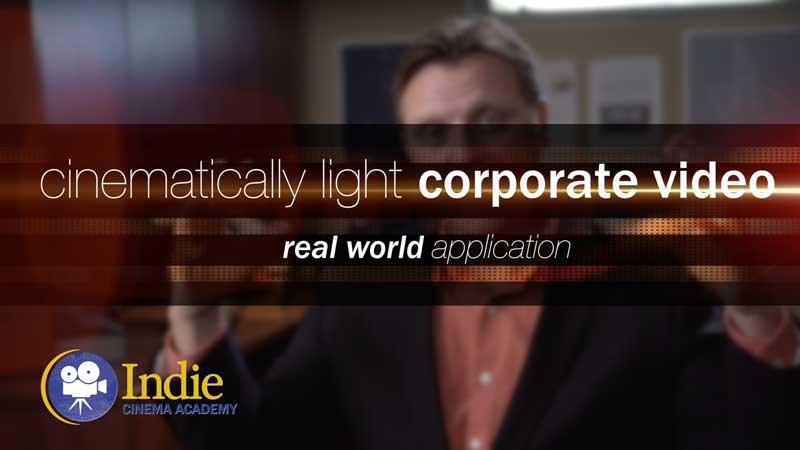 https://indiecinemaacademy.com/wp-content/uploads/2016/01/LC120-CorporateVideo-Thumbnail-Web.jpg
450
800
Ryan E. Walters
https://indiecinemaacademy.com/wp-content/uploads/2013/12/Indie_cinema_Logo_2color-MF-300x116-web.png
Ryan E. Walters
2016-01-11 00:15:08
2016-05-05 11:22:30
How to Cinematically Light a Corporate Video (Cinematic Lighting Lesson 20)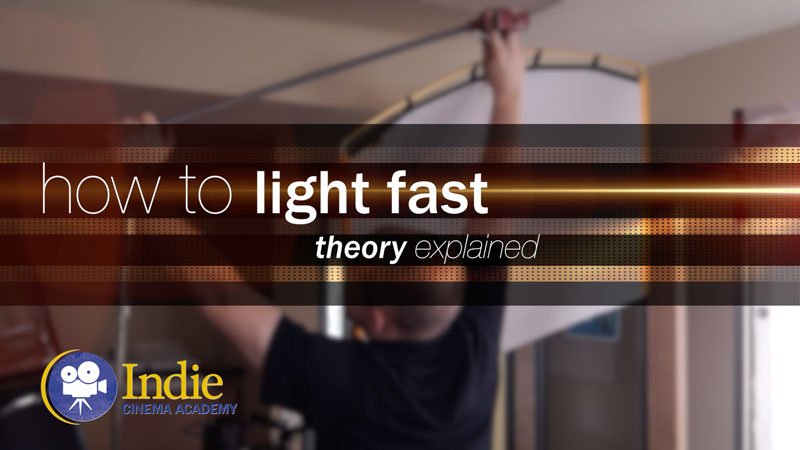 https://indiecinemaacademy.com/wp-content/uploads/2015/12/LC119-LightFast-Thumbnail.jpg
450
800
Ryan E. Walters
https://indiecinemaacademy.com/wp-content/uploads/2013/12/Indie_cinema_Logo_2color-MF-300x116-web.png
Ryan E. Walters
2015-12-29 12:38:56
2016-01-10 21:42:39
How To Light Quickly (Cinematic Lighting Lesson 19)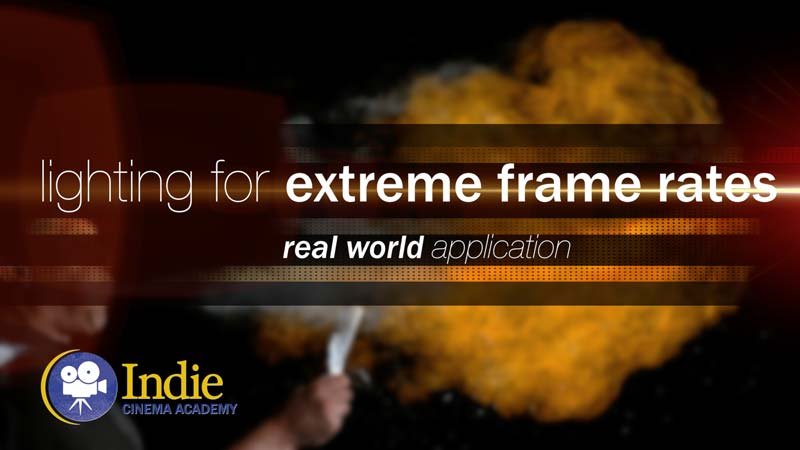 https://indiecinemaacademy.com/wp-content/uploads/2015/09/LC121_LightingHighSpeed-Thumbnail-Web.jpg
450
800
Ryan E. Walters
https://indiecinemaacademy.com/wp-content/uploads/2013/12/Indie_cinema_Logo_2color-MF-300x116-web.png
Ryan E. Walters
2015-09-21 00:15:37
2016-01-10 21:42:57
Lighting For Extreme Frame Rates (Cinematic Lighting Lesson 21)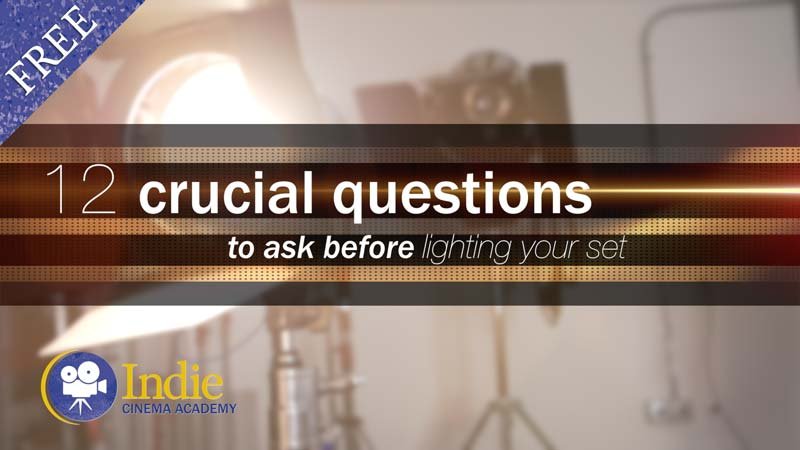 https://indiecinemaacademy.com/wp-content/uploads/2015/09/LC115_12Questions-Thumbnail-Free-Web.jpg
450
800
Ryan E. Walters
https://indiecinemaacademy.com/wp-content/uploads/2013/12/Indie_cinema_Logo_2color-MF-300x116-web.png
Ryan E. Walters
2015-09-07 00:30:53
2015-10-30 19:06:36
12 Crucial Questions To Ask Before You Light Your Set (Cinematic Lighting Lesson 15)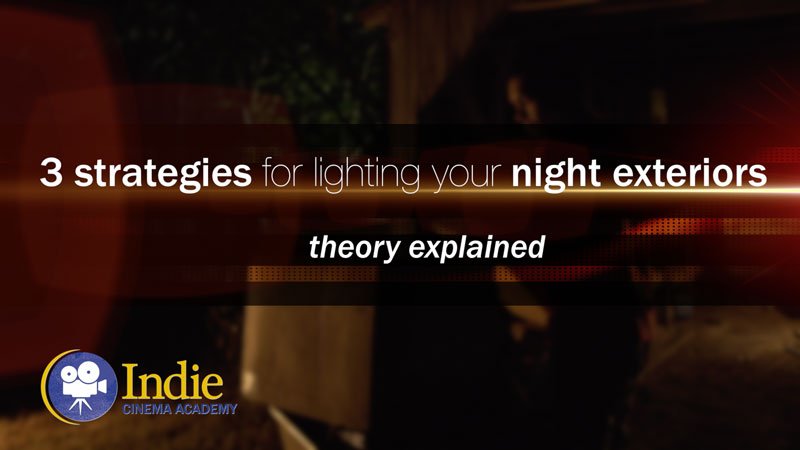 https://indiecinemaacademy.com/wp-content/uploads/2015/08/LC114-3StrLightingNghtExt-Thumbnail.jpg
450
800
Ryan E. Walters
https://indiecinemaacademy.com/wp-content/uploads/2013/12/Indie_cinema_Logo_2color-MF-300x116-web.png
Ryan E. Walters
2015-08-24 00:30:11
2015-10-30 18:55:17
3 Strategies for Lighting Your Night Exteriors (Cinematic Lighting Lesson 14)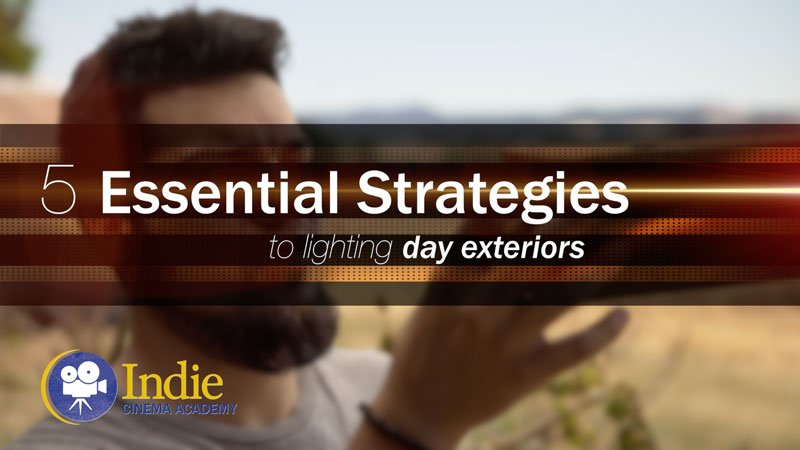 https://indiecinemaacademy.com/wp-content/uploads/2015/08/LC112_5SratDayExt-Thumbnail-800x450-jpg-web.jpeg
450
800
Ryan E. Walters
https://indiecinemaacademy.com/wp-content/uploads/2013/12/Indie_cinema_Logo_2color-MF-300x116-web.png
Ryan E. Walters
2015-08-10 00:15:42
2015-10-30 18:54:54
5 Essential Strategies To Lighting Day Exteriors (Cinematic Lighting Lesson 12)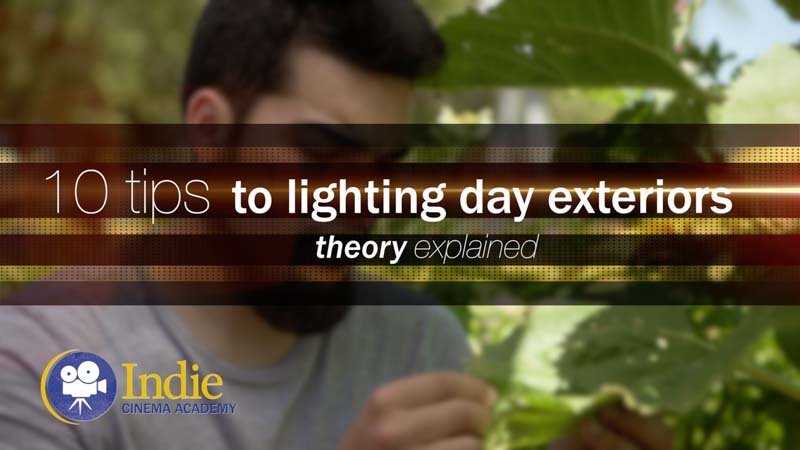 https://indiecinemaacademy.com/wp-content/uploads/2015/07/LC113-10TricksDayExt-Thumbnail-800x450-web-.jpg
450
800
Ryan E. Walters
https://indiecinemaacademy.com/wp-content/uploads/2013/12/Indie_cinema_Logo_2color-MF-300x116-web.png
Ryan E. Walters
2015-07-27 00:15:25
2015-10-30 18:55:03
10 Tips To Lighting Day Exteriors (Cinematic Lighting Lesson 13)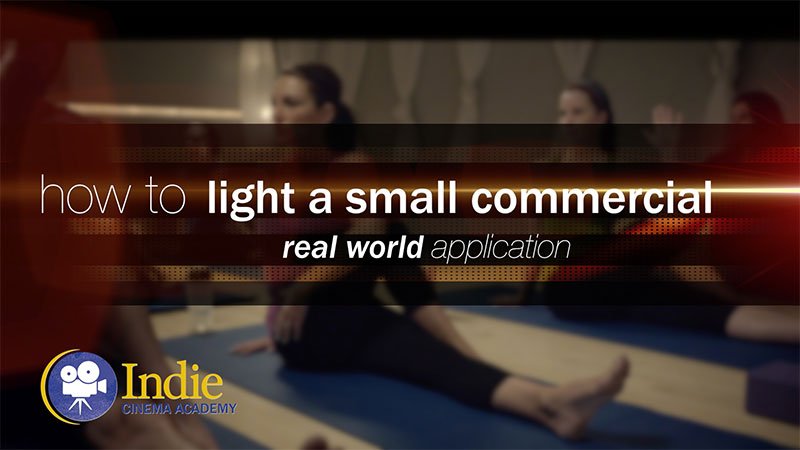 https://indiecinemaacademy.com/wp-content/uploads/2015/07/LC123_SmallCommercial-thumbnail-800X450.jpg
450
800
Ryan E. Walters
https://indiecinemaacademy.com/wp-content/uploads/2013/12/Indie_cinema_Logo_2color-MF-300x116-web.png
Ryan E. Walters
2015-07-13 14:24:58
2015-10-30 19:19:44
How To Light A Small Commercial (Cinematic Lighting Lesson 23)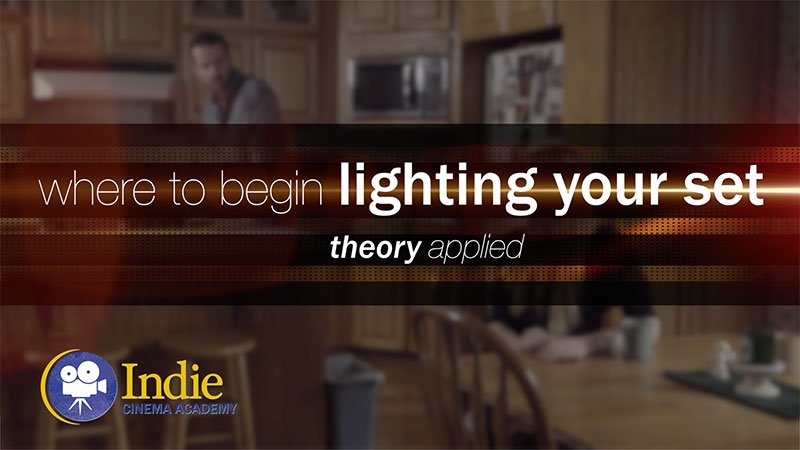 https://indiecinemaacademy.com/wp-content/uploads/2015/06/LC118-WhereToBeginLighting-featured.jpg
450
800
Ryan E. Walters
https://indiecinemaacademy.com/wp-content/uploads/2013/12/Indie_cinema_Logo_2color-MF-300x116-web.png
Ryan E. Walters
2015-06-29 00:30:30
2015-12-29 12:43:40
Where To Begin Lighting Your Set (Cinematic Lighting Lesson 18)