Red Epic Dragon vs. Red Epic MX, Part 01:
Dynamic Range & Latitude [VIDEO]
Description: In Part 01 of this three part series Ryan uncovers the differences between the dynamic range & latitude of the new Red Epic Dragon sensor and the Red Epic MX sensor to see if all of the hype is real.
Length: 22:56 minutes
Overview
Special Thanks To:
Red Epic cameras provided by Isaac Marchionna & Shawn Nelson
Camera & Software Specs
Firmware used on Red Epic MX & Dragon: 5.2.16
New OLPF used on the Dragon (as of 6/23/2014)
RedCine-X Pro: 30.1
Light Meter Software: Sekonic DTS: 4.01
Lenses: Red Pro Primes
Compression Level: 5:1
Lights: MacTech Daylight LEDs (93 CRI)
ND Filters: TrueND
Findings
Dragon has about 1.5 stops more room in the highlights than the MX
Dragon has a softer roll-off in the highlights, much more filmic looking
Dragon has the same Dynamic Range as the Alexa without having to use HDR-X
The noise in the Dragon is much more pleasing than the MX
Noise appears sooner in the Dragon than in the MX (Ryan's Personal Taste / Preference)
The Dragon currently turns green in the underexposed areas (When using daylight balanced lights)
The MX goes magenta in the highlights and in the underexposed areas (When using daylight balanced lights)

Results
Sekonic Chart:
(Click image to enlarge)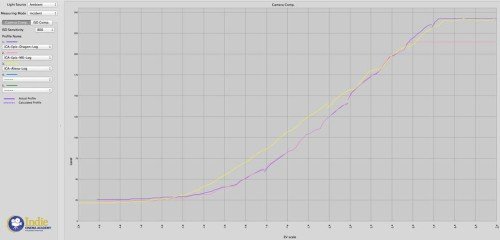 Latitude Test:
(Click images to enlarge)
| | |
| --- | --- |
| Red Epic MX | Red Epic Dragon |
| | |
Transcript
Introduction:
Now that Red is finally starting to deliver their fabled Dragon sensor I decided to take it our for a spin to see if all of the hype is real and how it compares to their previous MX sensor. So I met up with Isaac & Shawn to run a a battery of 7 different tests that compared things like dynamic range, latitude, IR, compression, low light, and color response. And rather than bore you with a 2 hour video that compares about 300 exposures, I've split the results into three different videos, and each video contains just the highlights of what you need to know. If you want to pixel peep and examine every frame for yourself, then you can download all of the 6k & 5k goodness in the post below. So in this first set of test let's take a look at the dynamic range and latitude, in these two sensors.
Sekonic Chart:
Ah yes, the good old Sekonic Exposure chart. While charts are not the most sexy thing to shoot, they do give us a precise and controlled way of measuring and evaluating a sensor. Now I'll be the first to admit that it isn't as easy or quick to use as the DSC labs 21 step chart, but I have found it to be an accurate, helpful, and affordable tool to help me map and evaluate a camera's response as well as create a camera profile for my meter. If you want to know how I created the profile, then click on the Smart Side Link to watch the video on how I did that step by step. And you can also have the profile I created available for download in the post below this video. So let's launch the Sekonic DTS program and take a look at the test results. Alright, so I've launched the Sekonic DTS software here and we are going to take a look at the profiles that I created. Before we do that, I want to give you a quick side bar about that the difference between the "-log" and the "-R" profiles that you see here. They are both exactly the same as far how the camera responds. The difference is that I have modified the "-R" one.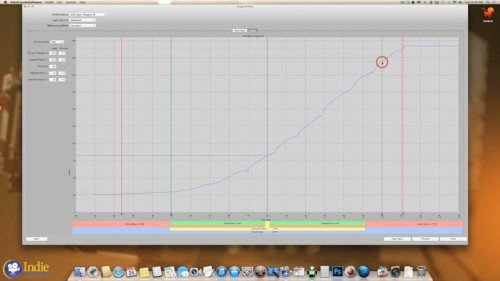 So as we take a look at the Dragon "-Log" file at 800, what you want to pay attention to is this green and red line here, and this green line here, so this is the default exposure range that the program created for me. I'm not a huge fan of defaults; I like to modify things to my own liking and personal preference, which is why I developed this profile here. Again this is just set to my own personal preferences. Take a look at this green this red, this green, and this red line. These are just based off of my own personal preferences. You can go ahead and modify these yourself if you happen to download this profile. You can adjust them to your own liking, they're just settings you can change. If you take a look at the cameras response here, everything else has stayed exactly the same. It's just personal preference. That's the difference between the profiles. So let's go ahead and take a look at some multiple profiles here. Oops, that said single. It would help if I could read, that would be helpful. Okay, so let's take a look as I go to 800, that's what I shot these profiles at. And we'll make the Dragon purple, and the MX pink. So the first thing that jumps out at me is over-exposure range right here. As we take a look, the MX sensor clips out at about 5.5 stops over. And it clips out into a harsh clip. The Dragon sensor, it keeps on trucking. It continues on and then it finally clips out just past 7 stops. It looks like it's about 1.5 stops more than the MX, maybe up to 2. But 1.5 stops of additional over-exposure is a safe place to bet there. What I really appreciate about this additional over exposure range is that it is going to make my life a whole lot easier on set, and it is going to make the digital imagery I create a lot more filmic.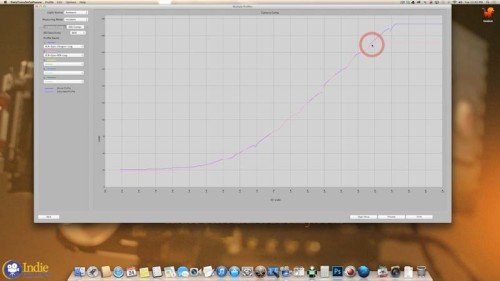 When it comes to what I'm used to working with and seeing when it comes to film, it is a nice soft shoulder roll off, and a nice extended range in my highlights. One dead give away of digital is this harsh clip right here. And a lot of digital cameras don't have a lot of over exposure range, they have a lot of underexposure, but not a lot of over. So this Dragon sensor really increases my over-exposure range which helps in creating a more filmic look. Or at least creates an image that closer resembles the way film looks. Something else that is interesting to point out here is this harsh clip. So you can see MX goes pretty abruptly into clip and then it just flat lines. Where as the Epic continues on and it has a softer shoulder than the MX. So this softer shoulder is really going to help it produce a more filmic roll off in the highlights. Of course as soon as it does hit the saturation point, when it is fully exposed, there is no more data there, it just flat lines. So it does have the same flat line characteristics as the MX when it gets there. But getting there is a much softer curve than the MX sensor.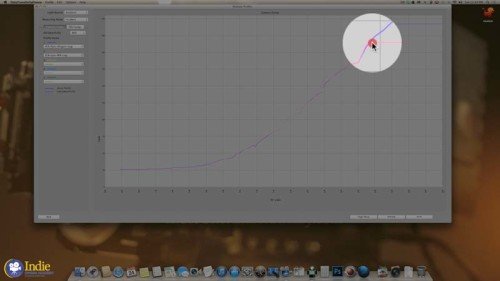 So I'm going to hide the Dragon right now, and we'll go over to the Alexa. As we take a look at the Alexa, this is one of the reasons why I have chosen the Alexa more often than the Epic MX. It is because of this highlight roll off. The MX sensor clips hard, like I said before, where as the Alexa continues on. And take a look at that shoulder- it is a nice soft roll off. And that roll off creates a more filmic image when it comes to the over-exposure range. And that is what I'm looking for when it comes to the digital cameras that I choose to use when the budget allows. So let's take a look at the Dragon sensor and add that back in. Now this is what is really encouraging with Red's new sensor. Take a look at this roll-off here compared with the Alexa. So both are very similar. Both of them have a similar highlight range. Of course the Alexa has maybe about 1/4 or 1/3 stops more in the highlights. Really, I think we are splitting hairs at this point. The over-exposure range is going to be so close that the differentiation right here is going to be lost more often than not in the grade. Unless the colorist really works on finessing that difference. Of course the roll-off in the Alexa is softer than the Epic is right here. Again we're splitting hairs at this point.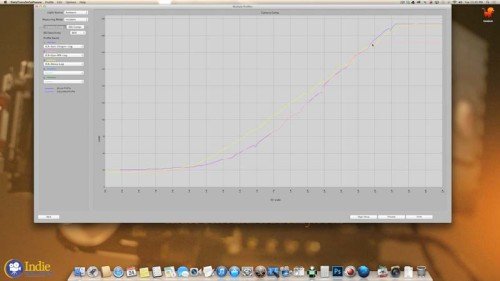 Let's hide that Alexa sensor there, and take a look at the rest of this exposure range. As we see the Dragon sensor and the MX are essentially identical the rest of the way. There is some slight variation which is interesting to notice. But I was expecting there to be a bigger differentiation when it comes to the underexposure range. But that just doesn't seem to be the case, at least when it comes to shooting the chart. So let's bring the Alexa back in to see how that is comparing. It is interesting to notice as I look at these that the Epic MX and the Epic Dragon have a bit of an S-Curve to them. These are the log files. As you can see it curves down here at the bottom, and then it also curves here at the top. Again, it's not a huge curve. But if we compare it to the Alexa, which has a straighter line in its log file. And the difference really becomes noticeable in the underexposure area right here. You can see that the Alexa has brighter underexposure values and that jives with my own experience with the Alexa camera. I use a lot more grip material and grip gear in general to create richer and stronger blacks with the Alexa and its underexposure values. The camera just sees into the darkness. And that bares itself out right here where I can see these brighter underexposure values. But as soon as we it -5, or 5 stops under, all three cameras are essentially performing the same. There is little variance between all three. So really the major difference is in between the first 5 stops of underexposure. So that is pretty much what these test results reveal. Charts are great as they give me a clear picture of what's going on. But we don't shoot charts, we shoot reality. So let's take a look at the latitude test and see how these chart results translate into something that is actually usable.
Latitude Test:
For this latitude test I shot in 1/3 stop increments all the way up to 5 stops over and 5 stops under, and then I processed them using the latest version of RedCine-X in two different passes. The first pass was at the exposure I shot it at, with no adjustments, and the second pass I used the FLUT adjustment to correct the exposure back to normal. The point of this corrected exposure isn't so much to say, "Hey you don't need to worry about exposing correctly." You do, even with raw cameras. The point it to take a look at what is really going on in the image and how the sensor behaves as it is over- and underexposed. That way, if I want to deliberately create a look through underexposing or over-exposing an image, I know what to expect. So I've got Photoshop launched here, and let's take a look at these latitude tests that I have going on. Here are the spot readings, I trust that you can read for yourself. We've got the Tenba bag, and the chart over here. Here are the incident readings of that setup. A quick note about the TruND filters. They are the most neutral filters that I have come across yet. Even at really strong grades, they still remain really neutral and they also have some IR blocking built into them. They block IR at about 750. So that's what's going on. The left hand side of these exposures is at exposure, the right hand has been normalized via FLUT.
So lets scroll on down to 3 1/3 stops over on the MX chip. As we take a look at the slate, the slate seems to be starting to burn out. Looks like we've still got detail in the white chip. Just above Tim's eye, pay attention to that area and also to Tim's forehead. That's where we are going to start to see some noticeable changes. As we go to 3 2/3 stops over the slate continues to disappear; it looks like we've lost, or about to lose detail in that white chip, which is now 5 2/3 over. At 4 stops over the area above Tim's eye is starting to burn out, his forehead is starting to burn out. We've lost detail in the white chip here. At 4 1/3, now we've definitely lost detail in Tim's skin. And that is what we were seeing in that Sekonic chart when it goes to that hard clip- that's what ends up resulting here. This hard burn, it is not a soft roll-off it is now clipped and gone, which looks pretty nasty in my opinion. At 4 2/3 it continues to worsen, bye-bye slate. At 5 stops over, now we are in all kinds of nastyville. So that is how the MX sensor performs in the over exposure and why I have tended to favor the Alexa.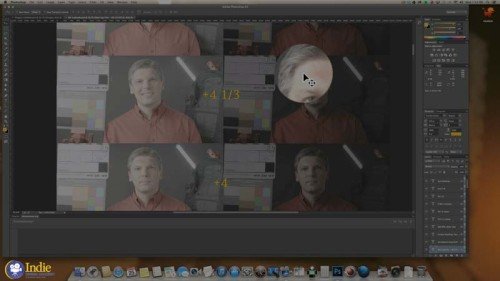 So let's see how the Dragon compares. Scroll on down, whoa, that was a little fast, sorry about that. At 3 1/3 stop over, Tim's skin is holding nicely, we see a lot more detail in our slate. The two stops over chip is still holding well. At 3 2/3 everything is still doing nicely. At 4 stops it looks like we are now just starting to lose a little bit of detail in the slate. Above Tim's eye, and also his forehead is still holding nicely. And we still have detail in our white chip. 4 1/3 still doing fine. At 4 2/3 losing more detail in the slate, although there is a lot more detail here than in the MX. Tim's skin still looks fine. The white chip looks like it might be on the edge of losing detail. It is noticeably different than the 4 1/3 chip. Continuing on to 5 stops over, Tim's skin above his eye is just barely beginning to lose detail, as well as in his forehead. We've obviously lost detail in our slate. It also looks like we are losing detail in our two stops over chip. Which all jives with what we were seeing on the chart with the Sekonic profile.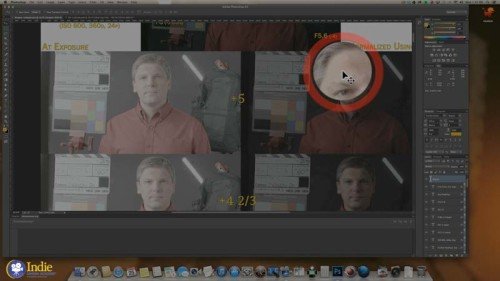 So this nicer softer roll off that we've got going on here, that's what I to see in my highlights. This softer burnout creates a much more filmic, and less digital feeling image. Just as a quick reminder to what the MX chip looked like at 5 stops over. So that's digital, that's not the look that I personally prefer. So that's what is going on with the over-exposure range with the MX and Dragon sensor. And that's what excited me most about Red's new sensor; at the end of the day, I don't really care about 6k, or even RAW for a lot of my commercial work, ProRes out of the Alexa has been more than adequate. But the fact that the Dragon sensor now has almost the exact same over-exposure range as the Alexa is a big step forward for the Epic in my opinion. Now let's take a look and the underexposures. But before looking at those results, I want to throw in a quick disclaimer: over-exposure is a cut and dry matter- either the image is clipped, or it isn't. Underexposure on the other hand is influenced a lot by personal preference. It's like salt: some people like a lot of it, and some people can only take a little. So I'm going to share my thoughts and opinions, but they're just that. And it is also worth pointing out that Red is continuing to work on and update their camera and color science. And they are aware of noise issues with the Dragon sensor- which will be addressed in a future firmware update. But as these cameras are shipping and being used on productions now, it's still worth taking a look at how the current camera performs. Okay, so we're back in Photoshop, and I'm at -1 2/3 stops under for the MX sensor, in case those numbers are not big enough for you. What you want to pay attention to as we go through the under exposure range is the Tenba Bag. Pay attention to this checkered area and also this darker black area. That's where you'll see the biggest differentiation between these two sensors.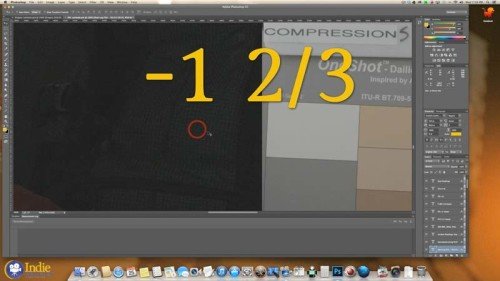 So here is the exposure, and here is the normalized exposure. At this level, the noise levels are still acceptable for my tastes. They are a little bit colorful, which is not what I prefer to see in my noise. I prefer my noise to be not colorful, or to be neutral in color, but it is passible. We'll go to 2 stops under, which is still passible. As far as noise level goes, it has picked up a little more color, I'm still seeing a lot of detail in the Tenba Bag. At -2 under, this checkered spot is about 5 stops under, and this black area I believe is about 6 stops under. And we'll go on down to -2 1/3. So here is where the noise level is unacceptable for my taste. This is too noisy for what I prefer. And the colorful bits of the noise are not what I like to see. It's not my personal preference. We're definitely still picking up detail in the Tenba bag.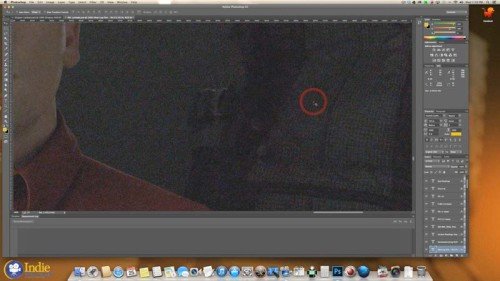 Let's scroll on down, just for fun, let's go down to 5. Here we go, So this is what we see in the -5 exposure. Not a whole heck of a lot of anything. Let's see what we can recover. Again this is 5 stops under, and we've got all kinds of crazy colorful noise going on. The Tenba bag looks like I can see a little bit, at least on my screen, hopefully it translates over the web. I can see a little bit of the outline of the checkered pattern, and just a little bit of the black area. We'll go up a 1/3 of a stop; it definitely becomes more noticeable and prominent. Another 1/3 of a stop and it is definitely easy to see here. We'll zoom out on the image just to take a look. And as we zoom out it becomes a lot easier to see where everything is differentiated. The little zipper. So yeah, we can actually recover quite a bit. We're looking at about 8 stops to 9 stops under. So that's quite a bit of detail. Not that it is usable, but it does seem to be recoverable. Something else to point out with the MX sensor is that as it gets underexposed, it is getting a more magenta cast to the image. You'll need to adjust for that in the grade.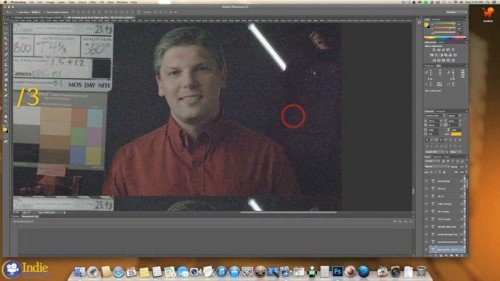 Let's see how the Dragon sensor compares. So we are at -1 stop under. And here is our regular image and here is normalized. I see a lot less color here. The noise is more neutral. At this level it is still passible and acceptable for me. I do like that it's less colorful than the MX sensor, that it's more neutral. That is a huge plus. We're still getting ample detail in the Tenba bag, which is good to hear, or good to see rather. And at -1 1/3 stops under, and it looks like we are still doing fine. It's passible, it is getting more noisy. We're picking up just a tad more color, but nothing like that MX sensor. And now we are at -1 2/3 stops under. So here is where I would draw the line for my own personal taste. The noise has gotten more color, but nothing like the MX sensor, so that's a huge win. But at this level there is too much noise for my liking. We're still getting detail in the Tenba bag, so that's a win. Now let's scroll down to 3 stops under. And now we are 3, so here what the image looks like. I'm not seeing anything in that Tenba bag and we are only at 3. Let's see what we can recover. And yeah, not really recovering much of anything. I can faintly see the bag here. But it is not like we are seeing in the MX chip which kind of surprises me. I'll zoom out and I can faintly see that outline here, but it is nothing like we were seeing in the MX chip. And that's rather surpassing because according to the Sekonic chart, they should be behaving neck-and-neck to each other. So maybe that is something that will be fixed in a firmware update, who knows. But at this point, at 3 stops under, which would make this bag about 6 to 7 stops under.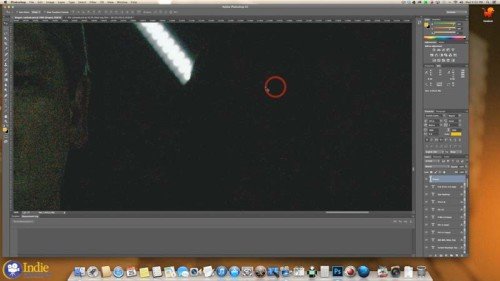 Just for grins and giggles, lets zoom on down to 5 stops under. Again not a usable image in my opinion. But let's see if we can recover any detail. And yeah, there is nothing there. At least I'm not seeing it on my screen, even a faint outline. We'll zoom back out just to be fair, I'm not seeing any outline there. Go up a 1/3, still not seeing any outline. So yeah, I'm not seeing that same bag that I was seeing in the MX sensor.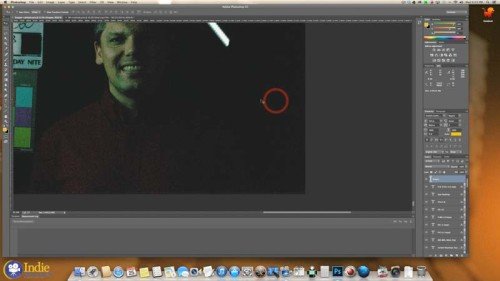 It is also interesting to point out that the Dragon sensor seems to go green as it is underexposed. Lighting, filtration, everything is exactly the same in-between these two. The MX is more magenta, and the Dragon is more green. So you'll just need to pay attention to that as you underexpose the image or as you're playing around with your underexposure values when your using either camera. So that's how these two sensors currently perform using their current firmware and color science.
Final Thoughts:
Well, I don't know about you- but I am honestly impressed with Red's latest sensor. The fact that the dynamic range is now as good as the Alexa without having to use HDRx, and that the over exposure latitude has been increased means that this camera is going to make it easier for us to paint with light and motion. Has it beaten film? I think that's an overstatement- as Kodak vision 3 stock still has at least 8 stop of over-exposure range, but as you have seen in this test- the results are quite impressive. Stay tuned for the next video where we'll be evaluating color, IR & fill ratios. If you have any comments or questions, leave them in the comment section below, and then come join me in the next video.