Is CRI Relevant In An LED World? [VIDEO]
Summary: Did you know that with an LED, not only is a high CRI rating misleading, but it might be totally irrelevant? In this video I'll show you why and what to do about it.
Length: 9:05 minutes
Transcript
Introduction
The Color Rendering Index, or CRI, has been the standard for measuring the color accuracy of a light source for a long time. In fact, it holds so much weight that many LED manufacturers tout their high CRI ratings to claim their lights are high quality. But did you know that with an LED, not only is a high CRI rating misleading, but it might be totally irrelevant? In this video I'll show you why and what to do about it.
Why Color Matters in Film and Video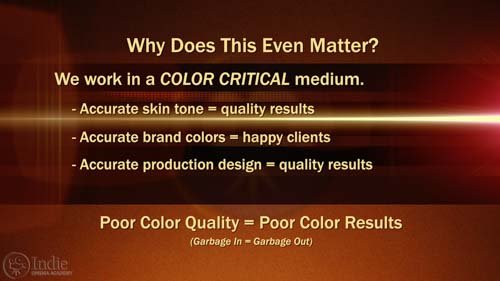 Before I dive into the whole CRI issue, you may be wondering why this matters in the first place. The answer is simple: as filmmakers we work in a color critical medium. A majority of projects involve filming people, and skin tone is one of those memory colors that we all intuitively know how it should look. So it is crucial that skin tones look good on camera. Even if there are no people filmed in a project, companies have a lot vested in the color of their brand and products, and so they expect these hues to be reproduced accurately. And if we've gone to the trouble of art directing our projects, then wouldn't we want our props, wardrobe, and sets to look their best? But, none of that can happen if we are using a light source that can't deliver color critical results in the first place.
What is Color Rendering Index (CRI)?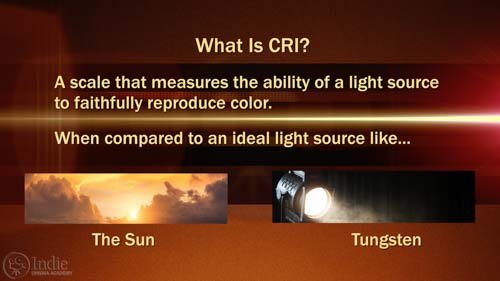 So what is CRI? It's a scale that measures the ability of a light source to faithfully reproduce the colors of various objects when compared to an ideal light source. Sunlight and tungsten bulbs are two examples that produce ideal light. The CRI scale ranges from 0 to 100. The larger the number, the more faithful and color accurate the light source will be.
The CRI scale is pretty simple to read and understand. Lights with a CRI below 30 are basically useless. CRIs from 30 to 60 mean that the light has a hard time getting many color right. From 60 to 70, it can get some colors right. Lights with CRI between 70 – 90 mean that most of the colors are right. Above 90 and the light is close to perfect. It used to be that all you really needed to know for film, video, and photography was whether or not a light had a CRI rating over 90. But with the advent of new lighting technologies like LED, all that has that changed.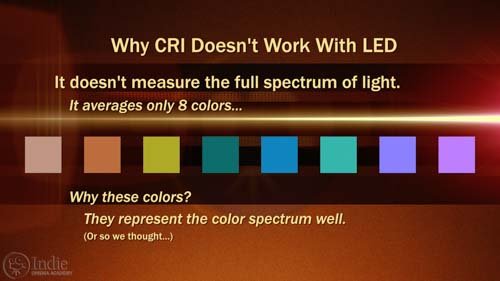 The difficulty with CRI is that it isn't measuring all colors of the spectrum. Instead CRI is the average of eight different Munsell test colors as defined by the International Commission on Illumination (CIE). They chose these specific colors because they are representative of the rest of the color spectrum since they are relatively low in color saturation and are fairly evenly distributed. Sounds pretty good, right?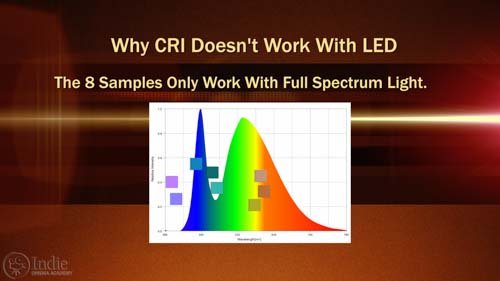 Unfortunately the eight color samples only work well for broad or full spectrum light, meaning a source that emits light across the entire range of visible light. A light source that is not full spectrum has gaps and spikes resulting in some colors being poorly rendered. Depending on how an LED is made, it most likely won't be full spectrum, so it too will have gaps and spikes. If those gaps and spikes don't fall on any of the eight colors measured by CRI, the light can have a high CRI rating but still render colors poorly. So what are we to do if CRI no longer tells the whole story? Let's take a look at three different solutions.
Television Consistency Lighting Index (TCLI)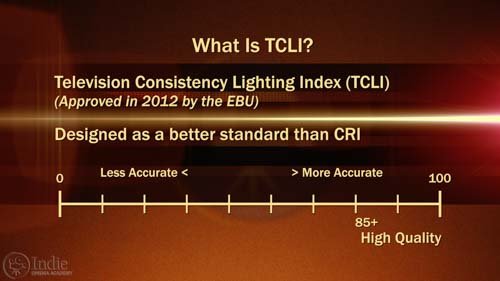 In 2012, the European Broadcasting Union, or EBU, approved the Television Consistency Lighting Index, or TCLI. TCLI was developed to overcome the shortcomings of CRI with light sources like LEDs. Like CRI, TCLI is based off of a scale of 0 to 100, with the best light sources being above 85.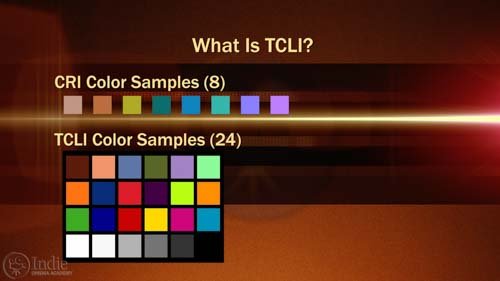 How TCLI differs from CRI is that TCLI samples the 24 color patches on a Macbeth Chart
. Sounds pretty impressive, right? That's three times more colors than CRI, so it must be better. And TCLI is definitely better than CRI. If you buy an LED that has a high TCLI rating, one that is 85 or above, then chances are you'll get great results from it.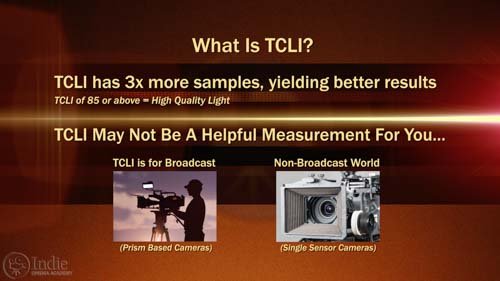 Unfortunately TCLI may not be the standard we should be adopting going forward. TCLI was developed for broadcast cameras that employ prisms, which is important to consider. Prism based cameras respond to light differently than non-prism based cameras. Outside the broadcast world, most people use single sensor CMOS cameras, which don't use a prism.
Does that make TCLI irrelevant? No, it just makes it less useful for those who don't shoot on broadcast cameras.
Color Quality Scale (CQS)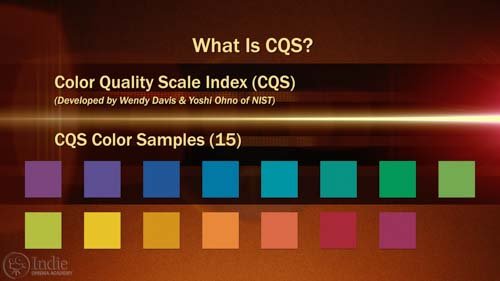 Wendy Davis and Yoshi Ohno of the National Institute of Standards and Technology have been working on another system to evaluate the accuracy of a light source. The Color Quality Scale, or CQS, samples 15 colors on the Munsell color wheel. Like CRI and TCLI, the CQS scale goes from 0 to 100, with 100 being ideal. In addition to sampling nearly twice the colors as CRI, CQS also takes into account human preference. For example, psychological studies have revealed that there are preferred color shifts in objects like skin tone. People prefer the look of caucasian skin tone when it is redder and more saturated. Also people prefer green grass and leaves when they are less yellow and slightly more saturated than in real life. So rather than penalizing a light for rendering these colors that way, CQS attempts to integrate that into their measurement.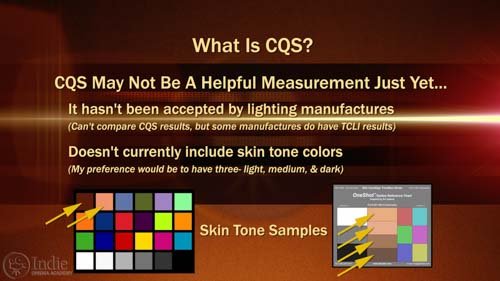 But while CQS is better than CRI because of its wider color sample, I'm not convinced that it is a helpful scale to use right now for us in the film industry for two reasons. First off, it has yet to be implemented in any real way by lighting manufactures, so comparing results isn't possible. Meanwhile some manufactures are starting to publish TCLI results. More importantly, the color samples chosen for CQS are missing at least one key sample in my opinion: various shades of skin tone. For those of us filmmakers, knowing how accurately a light reproduces multiple shades of skin tone is crucial for the work we do. But CQS shows a lot of promise, and I look forward to see how it matures as a standard.
Extended CRI?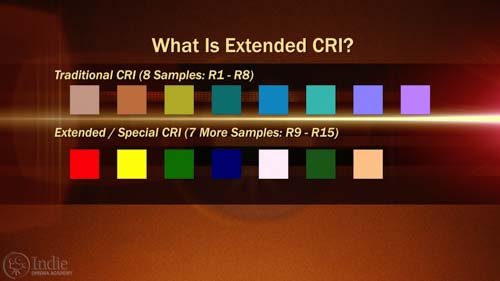 So CRI doesn't work, TCLI is great for broadcast, and CQS is still maturing. What are we to do until there is a reliable standard? Well, for now, I'd recommend looking at Extended CRI. While the traditional CRI scale doesn't go far enough with it's eight color samples, there is actually an extended CRI range that goes to up to 15 colors. And there are three very important colors that are included in these additional seven samples, the first of which is R9, a saturated red. It is actually quite difficult for an LED light to emit a lot of red. And since our mind's eye knows when red is really red, it's important to get it right, especially since it is a key component of skin tone. So if you want good skin tones, you need a good R9 reading.
The two other important colors are R13, which is a light skin tone, and R15, which is a medium skin tone. You might be asking why there isn't a dark skin tone reading. Well, I don't have a clue; I think there should be one. But for now, R13 and R15 are the two skin tone readings that are part of the extended CRI range and will help us gauge how well a light renders skin tone.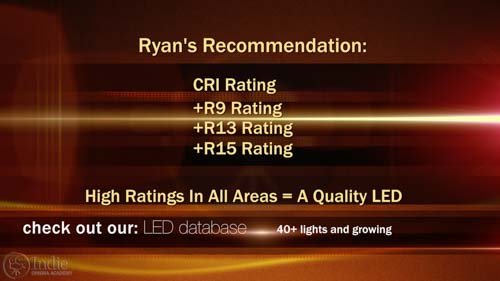 Until a more helpful standard is agreed upon, what matters to me right now is the CRI rating plus the rating for R9, R13, and R15. The higher these ratings are, the more confident I am that the light will help me render all of my colors correctly, especially skin tones. The problem is that not many manufacturers list their R9, R13, and R15 values. And for good reason: those are hard colors to reproduce well.
Recently, I used my Sekonic C-700
–designed with this new lighting technology in mind–to create a database of well over 40 lights. As I test more lights, I will add them to the database. So before you go out and buy your next light, you might want to check out our database to see the readings for yourself.
Final Thoughts
If you want accurate colors, and you want great looking skin tones on your projects, stop relying on CRI to tell you the quality of the light. It's not giving you the full picture in today's world of lighting. To know how a light is really going to perform, you have to measure it using a color meter specifically designed for LEDs.
How have you been coping with this ever changing lighting technology and lack of clear measurement standards? Do you have another suggestion for determining the color quality of a light? I want to know, so leave a comment below. And if you have any questions, ask away, and I'll be sure to respond.