Can You Trust Your Color Meter? [VIDEO]
Summary: Did you know that your old color meter no longer works with today's LED lights? In this video, Ryan shows you why and what to do about it.
Length: 4:25 minutes
Color Meters Mentioned
Color Meters Mentioned

AsenseTek Lighting Passport Color Meter


Sekonic C-700 Color Meter


UPRtek MK350 Color Meter
Transcript
Introduction:
Do you use a color meter to check the color spectrum of your lights? Do you use it to on your LEDs? If so your meter is most likely giving you bad information. In this video I'll show you why your color meter might need an upgrade.
The Color Meter Problem: Limited Sampling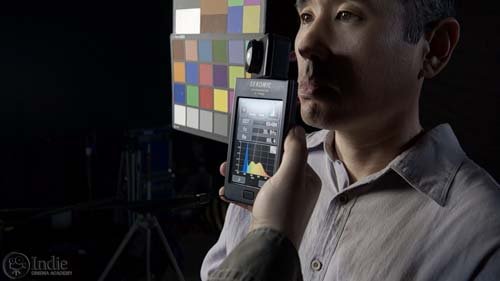 If you're not familiar with color meters, they are a handy tool to not only match the color temperature of different light sources, but to also help you shape the mood and look of your project through subtle changes in color.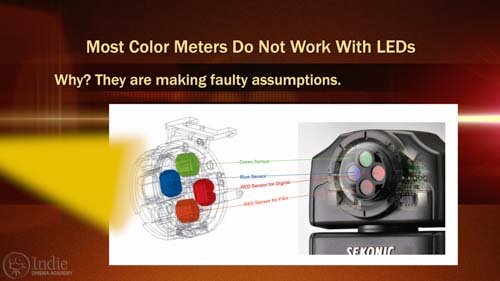 Unfortunately, most color meters can't be trusted with today's LED technology. The root of the problem is assumptions many color meters make when sampling light. Originally color meters were made using three sensors each responding to different wavelengths of light: red, green, and blue. When digital cameras hit the market, a fourth sensor was added: an additional red sensor that sees the world more like digital cameras do.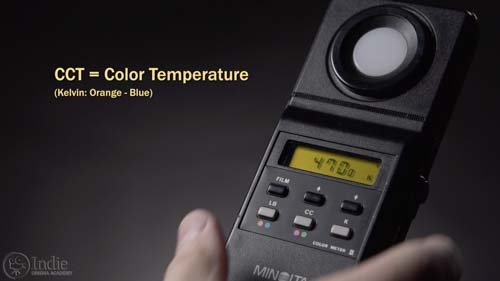 When these older color meters take a reading, the meter samples specific red, blue, and green wavelengths, does some math, then figures out the color temperature, or CCT, of the light–how blue or orange it is. At the same time it figures out the light balance, or LB, of the light–which is how magenta or green the light is.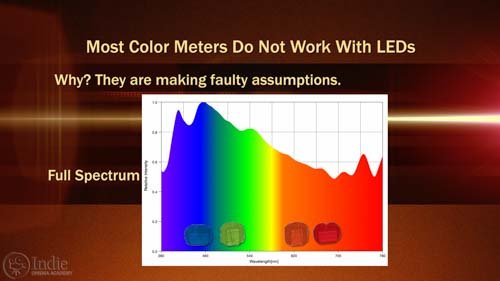 The fundamental flaw in these older meters is they assume your light source is a full spectrum light. A full spectrum or broad spectrum light is one that fills the complete visible spectrum of wavelengths, from violet at about 380nm to red at about 740nm.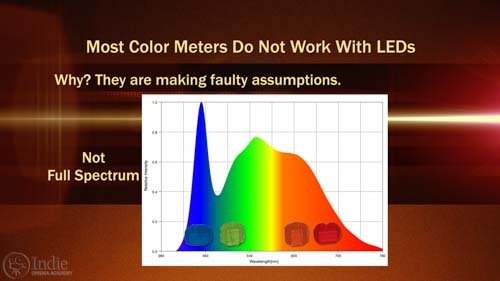 But LEDs and fluorescent lights are not full spectrum. (And as we pointed out with our LED test, they are also all over the map when it comes to color temperature and light balance.) LEDs and fluorescent lights actually have gaps and spikes, meaning they either lack or have too much of certain wavelengths of light. This obviously affects how these light sources render color. If a color meter doesn't take into account these gaps and spikes, it can't tell you how to properly correct for it. Fortunately, you're not stuck; there is a solution.
The Color Meter Solution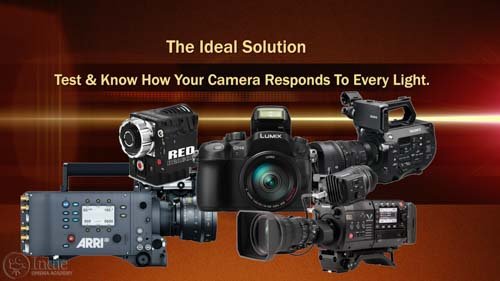 The ideal solution is to know how your camera responds to every type of light. But if you're like me, you don't have time to test every camera with every LED out there. So a practical way to solve this is to upgrade your meter to something that reads the entire spectrum and doesn't make the assumptions the meters of old make.

Right now there are at least three great color meters and spectrometers that can do this. The first is the Lighting Passport made by AsenseTEK. What's great about this little device is it can quickly and easily attach to your smartphone, either iOS or Android. It takes highly accurate color readings that are instantly shareable to anyone else, even if they don't have a Lighting Passport meter of their own. Another great feature of this meter is that, since the data is app based, the developers are continually adding to the readings this meter can give. It is the only meter I know of right now that will give me the CRI, Extended CRI, TCLI, and CQS readings as well as a myriad of other readings.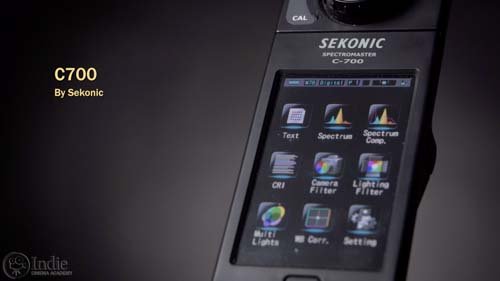 Another great color meter is the Sekonic C-700
. Like the Lighting Passport, Sekonic's C-700 will give the CRI, the Extended CRI, and individual spectrum information, something that is crucial when measuring LEDs lights. But what really sets this meter apart is how it was designed with filmmakers in mind. When taking a reading, you can set a target color and have the meter tell you what camera filtration you should use, or what gels you should put on the lights, even down to the specific Rosco
or Lee gel number
. This means you're never left guessing what gel you need to put on your lamp.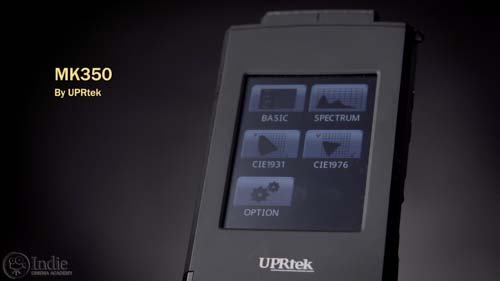 The MK350 by UPRTek
 is third great spectrometer out on the market. In addition to being designed to overcome problems with LEDs–complete with Extended CRI values and other color readings–it also has the ability to save data to an SD card and be controlled wirelessly by your smart device.
Final Thoughts
It is sad to say that your old trusty color meter no longer works in today's LED world. If you're still relying on it, well, it's time to upgrade to a tool that delivers accurate information so you can make informed decisions about the lights you're using on set.
So what has your color meter experience been like? Have you already upgraded your meter now that we're using more LEDs on our sets? How have you been dealing with balancing colors while lighting with LEDs? I want to know, so leave a comment below. And if you have any questions, ask away, and I'll be sure to respond.