3 Shooting Styles, 3 Camera Bags: Do You Relate?
Production life can be hard, demanding, and not so friendly to our equipment and bodies. That is why we prefer to test our tools prior to deploying them in a production. If something is going to fail or not work properly, we want it to happen before a production begins, not in the middle of it. This includes what we transport our gear in. Our cases need to carry and protect, but still allow us to work quickly, conforming to each of our own individual styles.
It just so happened that Tim and I received our Tenba Bag order just before a snow shoeing trip on Mount Hood. A cold snowy environment would be a perfect place to test their limits.
Run N' Gun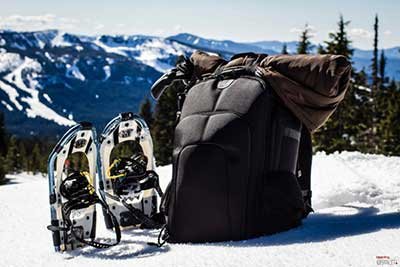 While planning our upcoming snowshoeing trip on Mount Hood we were overwhelmed with the desire to put 15 or so extra pounds on our backs while we hiked in fresh powder. We were excited when the new Roadie II Backpack arrived from our good friends at Tenba.
This backpack is incredible, and what better way to see if this will be our new go-to pack then to take it out in nature and put it to the test. We traded of wearing it, not because we had to but because we wanted to each experience it for ourselves. The snowshoe trail was long enough that we each had plenty of time to test it for ourselves. 😉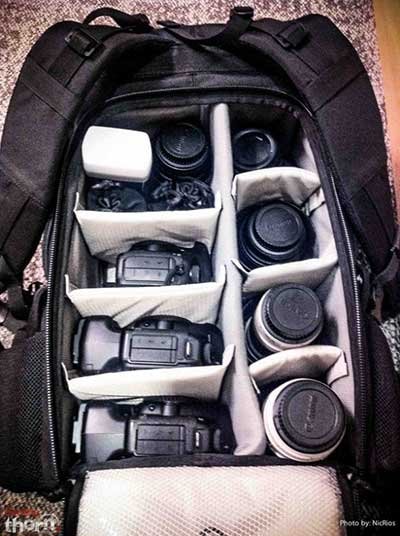 Backpacks are a must have for shoots when you have to be very mobile. In urban settings you might just be strolling the sidewalks to grab shots of interesting people or artistic architecture. Or you might be filming a wedding and need to keep everything with you, easily accessible. If you like to do more backcountry shooting, then gathering your gear into a backpack is a no-brainer. Hiking, skiing, climbing, any type of remote location will require a bag that you can easily organize all your lenses, media, batts, and accessories.st it out. 😉
The Roadie II is a big bag, it might even be too big for some. It has extra large pads on section that rests against your back as well as on the straps. This means you can really load the pack down with glass, cameras, batts without worrying about the pack cutting into you.
This bag has a huge inner compartment. The felt is thick and you can organize the dividers in whichever way works best for you. The bag is deep, but its about 1/4 of an inch too shallow to fit a Canon 70-200 2.8 LII vertically, so we were forced to choose to either lay it down or feel it protruding in our backs.
Even with all this gear the hip straps took the weight off our lower backs and moved it forward to our hips. When we were on the mountain we took advantage of the multiple pockets stuffing in snacks, batteries, and memory cards. That morning we grabbed an old Manfrotto tripod that we use for lightweight DSLR photography and  put it in one of the deep side pouches with a GoPro attached. One thing that would be great to add is some sort of zipper pouch built into the chest strap, and maybe even some padding.
Studio (AKA Ryan's Style)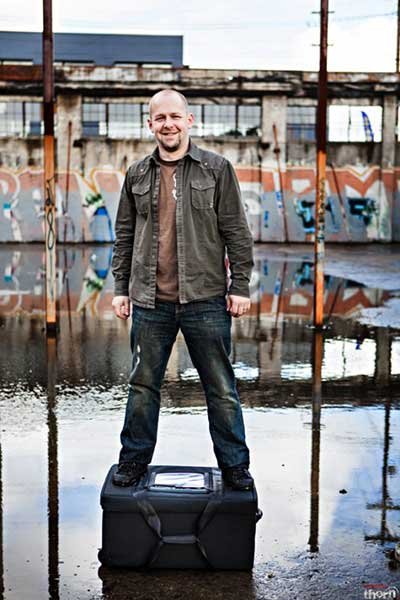 I've used a number of backpacks over the years from companies like Cinebags and Kata, and they are great for when I need to be on my toes moving from location to location. It is hard to beat a backpack for doco' style, Run N' Gun work.
But when it comes to my preferred way of working, Run N' Gun is not my first choice; it's more studio style. Once I start shooting the tools need to disappear. Anything that encumbers my creative process is a hinderance, an unwelcome distraction that needs to go away.
One of my biggest distractions on set is trying to remember in which pocket I put something. With equipment cases, I prefer one that opens from the top revealing all of the contents inside. Even if that means I have to use multiple cases. So when it comes time to pack my equipment for a shoot I choose the extra large air case. For me, the key is being able to quickly see and access any tool at a moments notice. Then I can concentrate on what's important: lighting, composition, and storytelling.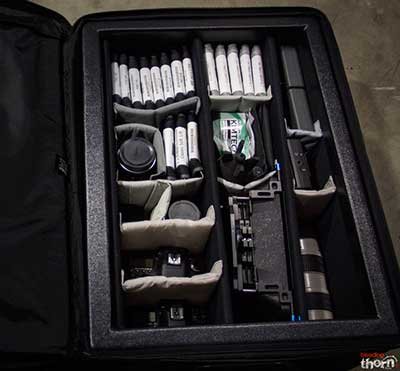 With the lid open, I can quickly tell what gear is in use and what is available. Once I have found a configuration I like, I'll keep the case in the same layout from that point forward. Keeping the same layout makes packing and accessing the contents part of my muscle memory. I work that much faster on set. When I need an ND filter, I instinctively reach to the upper right corner to grab it. When I'm tired at the end of the day, it is a breeze to check the bag to make sure I have packed everything. One quick glance reveals if I have any empty spaces where gear should be. I don't have to double check every pocket to see if I'm forgetting anything.
Until recently, my equipment case of choice was a hard case. Whether it is Pelican, Innerspace, or even the $28 Harbor Freight Special, something sets my mind at ease about a hard case. Unfortunately, with the airlines "nickel and diming" us to death on the number and weight of bags, I've been looking for lighter alternatives. I think I have found my answer in Tenba.
They say you can stand on their bags even when empty. To my surprise it held my 200 lbs without collapsing. If I didn't break it, then I doubt TSA will. But don't quote me on that.
Now if I could just get them to put the bags onto the correct flights. 🙂
Extreme (AKA Tim's Style)
Wherever I travel, I often work on productions that have severe weather, abusive conditions, and are not ideal for staging gear. Mountaineering, backcountry trails, and wilderness shoots do not treat camera gear well, especially when safety is the top priority. Cameras and the bags that carry them get thrown around constantly. Dust, dirt, rocks and debris seem to weasel their way into every small crevice of the bag and camera. Therefore when I look at bags for my gear, I search for something that is rugged, padded, sealed, and has solid stitching.
There are no plastic fasteners to be found on the Roadie II Shoulder Bag. The zipper sliders, zipper coils, and shoulder strap fasters are not just metal: they are SOLID steel, burly works of strength. I have honestly never seen camera bags with zippers built this tough.
The fabric exterior is a tight weave of some seriously formidable waterproof nylon. This is exactly what I look for in a bag, something that can stop torrential floods from touching my cameras. The bottom of the bag is rubber coated making it waterproof and "grippy," almost like sandpaper. The two broad sides of the bag are not the same, and for good reason: one side is cushioned with no pockets since it rests against your body as you carry it. The other side has two ample pockets that you can fill with easily accessible gear.
Just like a fresh New York bagel, the inside of this bag is soft and velvety despite the solid exterior. The lower section has detachable velcro panels that let me move the walls around to accommodate my changing needs. The upper section is a removable tray constructed of tough parachute material. It completely zips up to keep gear, tools, and parts from falling out as well as keep debris from getting in. So in a big way this is really a bag within a bag.
Throughout the entire bag–inside and out–there are numerous small compartments to store media, tools, parts, wipes, batteries, and perhaps some snacks. I love bags with lots and lots of zippable pockets so that I can sort the small stuff. Some bags I've tried have only a few of these pockets, which invariably turns them into junk-drawer compartments, which is neither efficient nor safe.
The design of the bag as a whole is very smart. Every stitch, every zipper, every attachment point was carefully thought out. Pockets are placed in logical positions. There is a strap to easily secure this bag to a airplane roller bag. The zippers have compact cord draws on them so that it is easier to grab them. These small things show me this bag won't let me down when I need it most, out in the middle of nowhere, far from the comforts of a studio or my fix-it workshop.
Bottom Line
What you choose to transport your gear in should conform to your shooting style, in addition to its build quality and how well it protects. The "best bag in the world" is of no use to us as storytellers if it slows us down, and inhibits how we work.
Getting To The Heart Of The Story,
The Bleeding Thorn Films Team